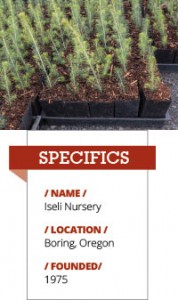 Boring, Oregon – Iseli Nursery
One of Iseli's primary forms of propagation is grafting, a process for which they employ greenhouses and Anderson Pots' products. The nursery, founded in 1975, has been using Anderson products since its inception, nearly four decades ago.
"They're part of our culture here; Anderson Pots is kind of a partnership. Our products seem to be connected with the Anderson products," says Paul Halladin, Iseli Nursery propagation manager.