At the 2016 FarWest Show: The National Nursery and Greenhouse Trade Show, Anderson Pots is emphasizing THE ANDERSON PROPAGATION CHALLENGE.
Anderson Pots challenges growers to compare propagation in Anderson Bands and Flats to what they are doing now. Anderson will supply sample Band/Flat growing units for the challenge. We are confident growers will find that Anderson Bands create healthier roots and more vibrant plants. This is why many top growers constantly choose Anderson Bands as the best choice for their propagation needs.
The 2016 FarWest Show runs August 25 – 27 at the Oregon Convention Center, Portland, Oregon. Come see us in booths 19043/20044 near the convention hall's main entrance.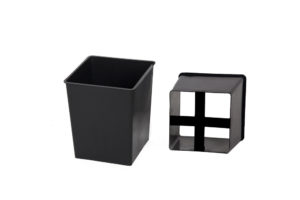 New Anderson products at this year's FarWest Show include the 3 9/16" x 4 ¼" Lipped Cross- Bottom Band. All attendees are invited to stop by our exhibit to say Hi and discuss their upcoming needs. Please ask for a sample Band/Flat unit to take back to your nursery and try as part of THE ANDERSON PROPAGATION CHALLENGE.