Anderson Nursery Products

The sections below offer product information on common Anderson nursery products. For simplicity only the normal black pots and band part numbers are listed. Many of these products also come in other colors and, sometimes, other styles e.g. Pots or Polycans without drainage holes. If you need something not listed, please ask. If you need a custom or customized container, we can do it as long as your quantities are big enough to justify our design and die costs. Tell us what you need!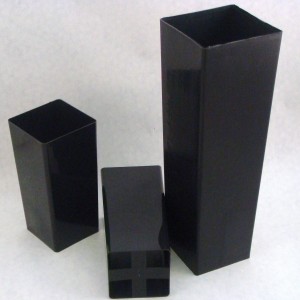 We offer numerous sizes of our famous cross-bottom bands for both bedding plant and tree growing uses. Some versions are also available in full-bottom styles called Bandpots. The built-in stacking ribs are designed to inhibit root swirling and the square band corners promote root growth better than round pots. The open cross-bottom air prunes roots growing out the bottom of the container. Bands hold more soil than round pots in an equivalent space. Don't accept anything less. Our Bands are proven by many years successful use in greenhouses and by nursery propagators. All our Bands are reusable year after year.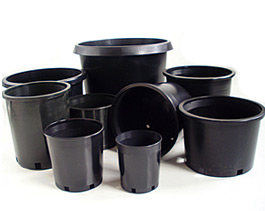 Our Polycans are superb field pots, injection molded for durability and strength. These black containers from premium recycled plastic outperform thin-walled throwaways from off shore and domestic sources. Our thicker pot walls resist cold better and last longer than alternatives. They are totally reusable and recyclable.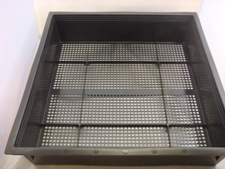 We build long lasting nursery flats in several different styles. The new 17" Square divider flat is specifically designed hold sixteen 4" Anderson bands or 8 Anderson bands in an every other slot arrangement for very bushy plants. Black recycled plastic versions of our traditional Anderson Flats now make quality more affordable than ever.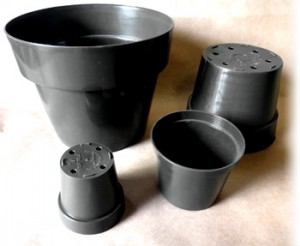 Our premium traditional round nursery pots range in size from our tiny 2½" round pots to up to our very large 12½" round, 9½" high design. Anderson Square Pots range from 2" square to the popular 4⅛" square size. Both Bottom Drainage and Side Drainage pots are available. Black is now our normal pot color with green and additional colors optional, but not always in stock for immediate delivery.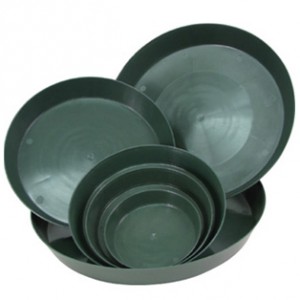 Our saucers are simply unequalled in both quality and longevity. If you want saucers that will last, these are the definitely the ones. These saucers range from the tiny 4 inch diameter #4 to the 25" Super Saucer. Black is the standard saucer color with saucers through 16" also available in green.


Examples of bands and pots together.


In addition to our nursery containers and pots, Anderson Pots also manufactures a few other unique products.